Departments of HRD and Indian Society Jamat e Islami Hind (JIH), Telangana is organising a 4-Day Online Workshop on "Leadership Development for Social change" PHASE-I
The online program will be from 7:30 pm to 10:30 pm on Zoom on 16th, 17th, 18th and 19th July 2020. This will be an interactive session with renowned resource persons and trainers. Entry is through registration and with limited seats.
INTRODUCTION:
As local and global social issues keep emerging, there is need for leadership to manage them. Empowering students and youth to be social change agents is a daunting task. Such is its significance that many leadership educators regard Social Change leadership as the leadership of the 21st century. Its purpose is to mould leadership as an altruistic process by which change the focus of change is for the betterment of others. Among possible options, it is recommended to adopt a value based model of leadership development that revolves around service as the vehicle for social change.
The Leadership for Social Change workshop is an effort to enhance participants' leadership and management skills to facilitate positive social change. This workshop emphasizes on the need to understand personal capabilities and the social environment to create community change. The model is inclusive in that it is designed to enhance the development of leadership qualities in all participants- those who hold formal leadership positions as well as those who do not. In this training program, leadership is viewed as a process rather than as a position whereby the concepts of equity, social justice, self-awareness, personal empowerment, collaboration, citizenship, and service are probed and learnt for extensive application in the field.  Values are core critical elements of Social Change– specifically these seven: Awareness, Commitment, Taqwa, Integration, Organization, Networking, and Citizenship (ACTIONS).
Please note registration is mandatory.
For Registration:
Zoom : will be shared to registered candidates only
Others Please visit:
FB live : https://m.facebook.com/jamaateislamihindTelangana?__tn__=%2Cg
YouTube : https://www.youtube.com/channel/UCZ4mShYTwlrO3jkLOJLzRog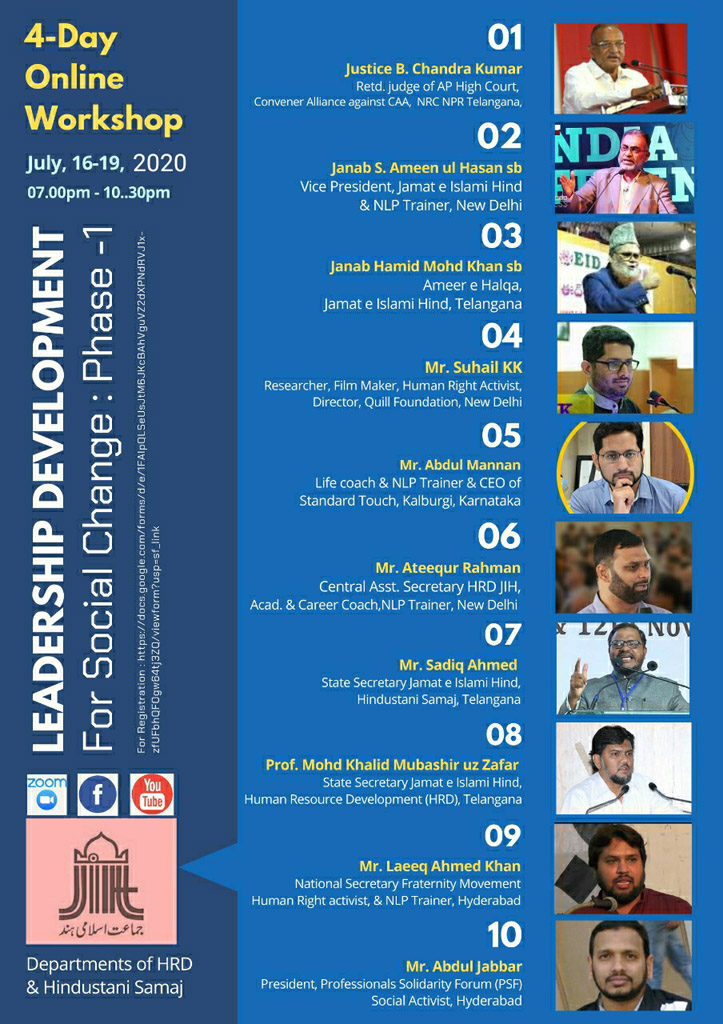 Schedule and agenda:
S. No.
Date, Topic & Speaker
Value Stream
Contents

1.

16thJul 2020, Thursday
Individual values and traits for leadershipPresided over by:
Janab Sadiq Ahmed Sb
State Secretary, Hindustani Samaj, JIH TS30 Minuites
Awareness

"Awareness of purpose, principles, process, and people related to social change."

By Mr. Laeeq Ahmed Khan,

Human Right activist, National Secretary Fraternity Movement & NLP Trainer, Hyderabad

60 Minutes + 15 Min Q & A

· Society and social issues
· Desire for social change
· Scope and objectives
· Process of change
· Navigating power structures and influencing
· Aligning with role-based requirements
· Understanding personal ability- physical and moral standing
· Understanding the power of morality
Commitment

"Responsibility-driven motivation for best endeavour with abiding devotion, steadfastness and optimism."

By Mr. Abdul Mannan
Life coach & NLP Trainer & CEO of Standard Touch

Kalburgi, Karnataka

60 Minutes + 15 Min Q & A

· Addressing commitment challenges for full-timers and volunteers
· Balanced lifestyle
· Managing family and social expectations
· Leadership and mental health
· Staying motivated
· Role of Sabr, Salat and Qur'an in motivation
· Overview of 7 Habits of Highly Effective People
· Overview of other contemporary literature
2.

 

17thJul 2020, Friday

Individual values and traits for leadership…. Continued

Moderated by:

Janab Sadiq Ahmed Sb State Secretary Hindustani Samaj JIH TS

Taqwa

Personal conduct tuned with belief and values

By Janab S Ameen ul Hasan sb
Vice President Jamat e Islami Hind & NLP Trainer, New Delhi

60 Minuites + 30 Min Case Studies & Activities

· Developing and maintaining Taqwa
· Minimal Taqwa standards
· Avoiding conflict of personal and public values
· Exercising transparency and accountability
· Tazkia and continuous improvement

3.

18th Jul 2020, Saturday

Group values and traits for leadership

By Presided over by:

Prof. Mohd Khalid Mubashir uz Zafar

State Secretary HRD, JIH TS 30 Minutes

Integration

Alignment, unification and co-ordination of processes, people, and activities toward the achievement of group mission

By Mr. Abdul Jabbar,
Social Activist, President, Professionals Solidarity Forum (PSF), Hyderabad

60 Minutes + 15 Min Q & A

· Articulating shared goals
· Co-ordinating and developing plans
· Assigning roles & responsibilities and managing teamwork and performance


· Managing, directing and controlling

Organization

Using the organizational resources and undertaking capacity building in support of social change

By Mr. Ateeq ur Rahman National Asst. Secretary HRD Department, JIH, Motivational Speaker in Academics & Career, New Delhi

60 Minutes + 15 Min Q & A

· Establishing policies
· Utilizing organizational assets
· Managing funding and sponsorship
· Human capital management
· Facilitating productive environment
· Essentia group values and traits
· Managing opposition and conflict

4.

19th  July 2020, Sunday

Creating social change

Jb Hamid Mohammed Khan sb,

Ameer e Halqa
JIH TS

30 Minutes

Networking

Bolstering relationships and teamwork through in-person and social networking

By Mr. Suhail KK,
Researcher, Film Maker, Human Right Activist, Director, Quill Foundation, New Delhi

60 Minutes + 15 Min Q & A

· Role of social networking in social change
· Employing social networks legally and securely
· Social media platforms as a marketing medium
· Real-world examples
Citizenship

Harnessing individual and group qualifications to affect change benefiting the society

Justice B, Chandra Kumar,
Hyderabad

60 Minutes + 15 Min Q & A

· Identifying target issues and audiences
· Designing issue specific programs
· Partnering and engaging with stakeholder audiences
· Defining alliance criteria and managing allies
· Overseeing change and measuring impact