Women's Wing of Jamaat-e-Islami Hind Telangana Zone conducted a Press Meet on occasion of Launch of National Campaign "STRONG FAMILY, STRONG SOCIETY", The campaign will be for 10 days, from 19th to 28th February 2021.
The press meet was addressed by:-
Mrs. Asiya Tasneem Sahiba (President, JIH TS Women Wing)
Mrs. Syeda Sajida Begum Sahiba (Campaign convener, TS)
Mrs. Summayyia Lateefi Sahiba (Campaign co-convener, TS)
Mrs. Ayesha Sultana Sahiba (Vice President, JIH TS women wing)
Mrs. Asma Zarzari Sahiba (Campaign co-convener, TS)
Mrs. Khalida Parveen Secretary Amoomat Society for Women
Moulana Hamid Mohammed Khan President Jamaat-e-Islami Hind T.S Zone
and other dignitaries were also present.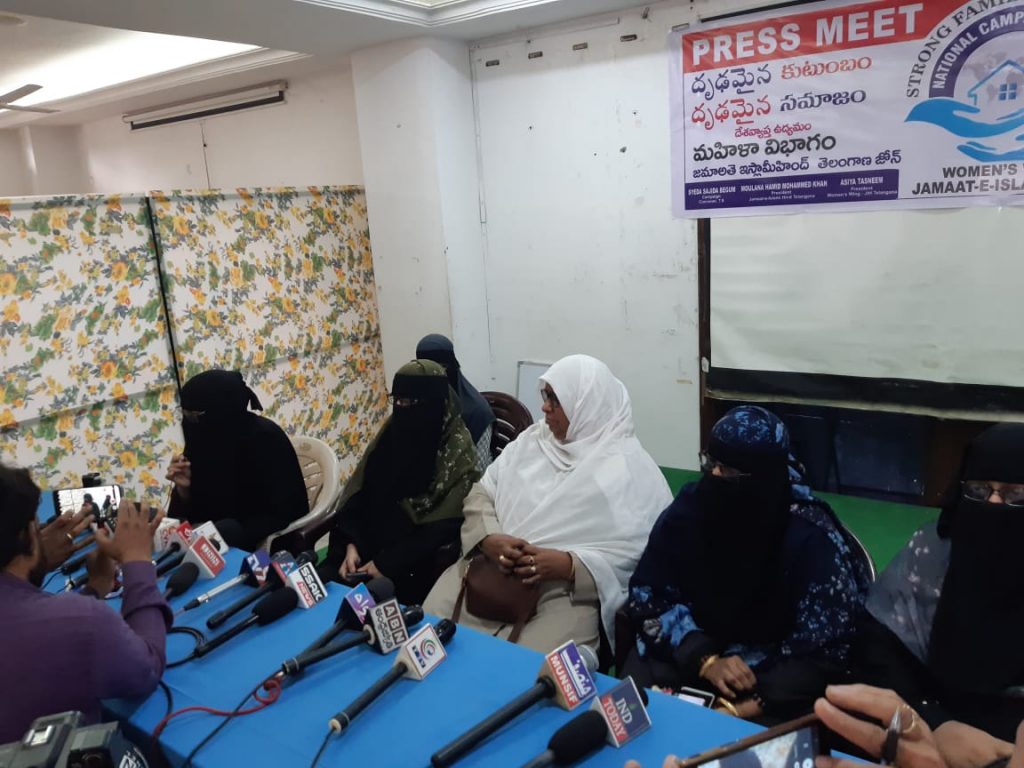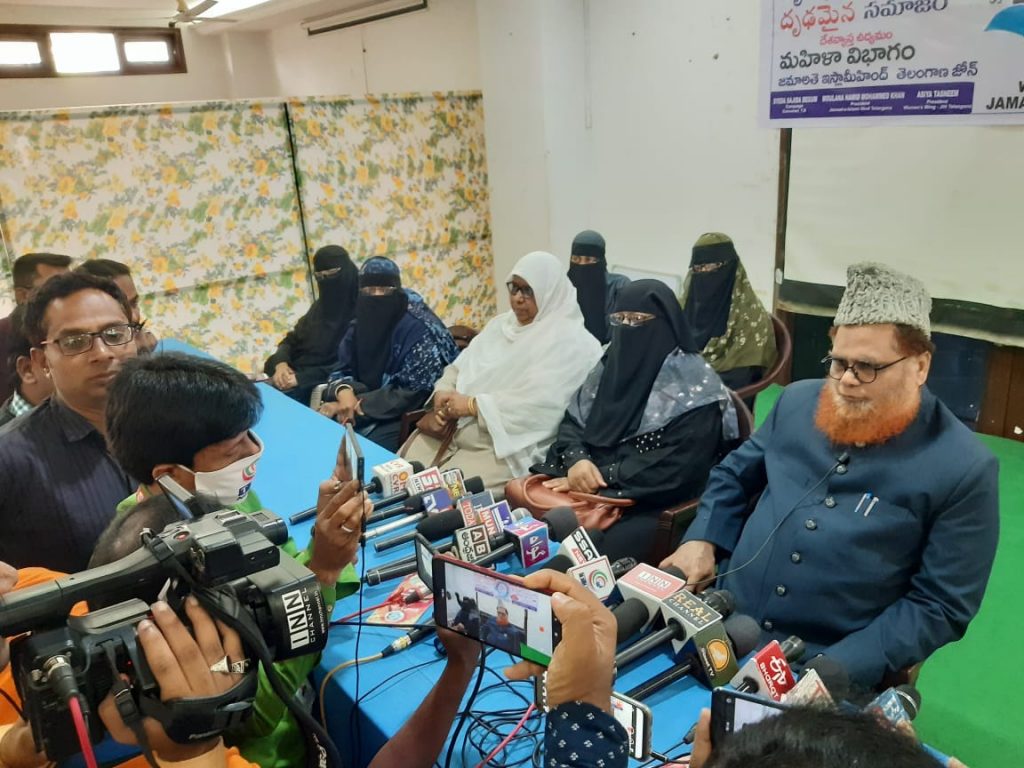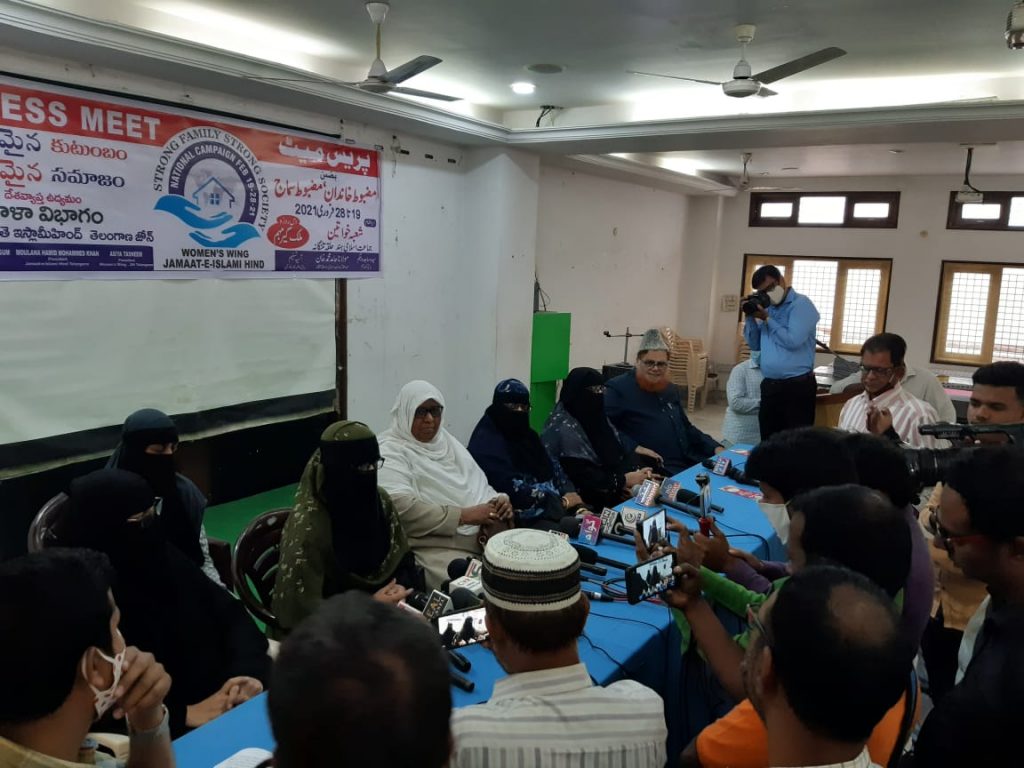 The Women's Wing of Jamaat-e-Islami Hind (JIH) is conducting a nationwide campaign 'Strong Family Strong Society' from 19 February to 28 February 2021.
A family is the basic building block of society and the foundation of civilization. This basic social unit of every community is under tremendous threat of being weakened and disintegrated given the present social scenario. Hence, the JIH Women's' Wing is conducting this campaign to create awareness regarding strengthening the family and home, warn people about the dangers of seeking happiness outside the institution of marriage, respecting and protecting the rights of the old and highlight shared family values of every culture.
Some of the activities envisaged during the campaign include grass-root level programs and self-introspection. Corner meetings, family get-togethers, competitions, family quiz, interfaith dialogues, International webinar, panel discussions with lawyers, family counselors and educators, daily online interactive sessions with experts, Friday sermons, group discussions etc. These activities will be organized across the country within the Muslim community as well as for the public. Letters will be sent to community leaders, Imams of mosques and various religious scholars to draw their attention towards this theme.
The National Commission of Women has recently reported an exponential rise in domestic violence during the Covid-19 lockdown. Other survey reports say that the increase in domestic violence is at a 10-year high record. The numbers are actually much higher if one bears in mind the fact that only 7% reach out to authorities for help. Divorce rates increased and cases registered against family disputes have skyrocketed. This data is just the tip of the iceberg and cases of women subject to verbal, physical, sexual and psychological violence and abuse is becoming extremely common. Our children, youth and senior citizens also face difficulties of different kinds.  The youth today wants to evade the responsibilities of marriage and family life.  They refuse to shoulder the responsibility of motherhood and fatherhood. The rising trends of live-in relationship, homosexuality, abortion of unwanted pregnancy as well as the virtual revolt against all value systems of family and society pose a clear and present danger towards the health of a vibrant society. Restoring the basic status of the family and giving proper direction and support to this end is the need of the hour.