While Islam offers solutions to all problems of the world, it also offers solutions to poverty. Today, there is a need for Muslim youth to develop self-reliance, get out of the habit of being dependent on others, stand on their own feet and make trade their livelihood. Maulana Hamid Mohammad Khan was addressing the first unique Business Expo of its kind organized by Bright Begin Business Guidance Center, Telangana (Department of Milli Affairs, Jamaat-e-Islami India, Telangana) at Khawaja Mansion Function Hall, Mansab Tank, Hyderabad held on 20th March, 2022.
The business expo saw extraordinary enthusiasm from the Muslim community and was attended by a large number of men and women, especially the youth. A number of stalls were set up on the occasion where business entrepreneurs presented their experiences and details of the business. Continuing his address, Maulana Hamid Mohammad Khan said that the Jamaat-e-Islami Hind Telangana is dedicated to the development of affairs of ummah. He plans to advance the youth of the nation economically, socially, spiritually and personally in every possible way. He said that Bright Begin is an organization set up by MilliUmoor department of JIH which will provide all kinds of guidance to the youth who want to advance in trade and industryso that Muslims can live a dignified life in this country.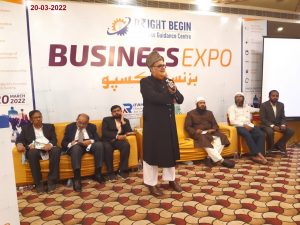 On this occasion, Chief Guest Mufti Sadiq Mohiuddin Faheem, a leading religious scholar explained the importance and usefulness of trade with reference to Qur'an and Hadith. Guest of Honor Mr.Mohammed Lateef Khan, a prominent personality in the field of education and Chairman & Managing Director of MS Education shared his experience and stressed on the importance of persistence, perseverance and hardwork in business. Mr.Dr.Sheikh Mohammad Osman, Secretary, Department of Milli Umoorsaid that if the economy is strong and lawful then faith and religion will also be strong. MaulanaDr.Ahsan Al-Hamoumi (KhatibShahi Masjid Bagh-e-Aam) said in his address that the Prophet Mohammed (peace be upon him) said that a believer who trades with truth, trust and honesty will be with me in Paradise. Mr. Muhammad Azharuddin, Secretary, Public Relations Department, in his address said that success in business requires honesty, hard work, dedication and pursuit. He said that Allah Almighty has blessed the business. On this occasion, he gave examples of Hazrat Khadija and Hazrat Abdul Rahman bin Awf.
Mr.Yousuf Ali Khan, President, Rifah Chambers of Commerce, Telangana, said that Rifah is also the central body of Jamaat-e-Islami Hind, which is active in 17 states of the country. Maulana Yousuf Zahid, Chairman, Khadiand Village Industries Board, Telangana, in his address on the occasion mentioned various schemes of the government. On this occasion Mr.Meraj Faheem (Edventure Park) delivered his presentation on Ideation, Incubation and Funding. Dr.Nasheed Ali, Dr.Khidr Hussain Junaidy, Ms.Gulzar Karshma Malik (CA) and others also addressed the gathering. Young Entrepreneurs Dr.Muzammil Anzar of Human Care, Brother Qassim, CEO of I-Water, Hafiz Muhammad AzharMohi-ud-Din, CEO, Bio-Reform, Mr. Abu Bakar, CEO of Zibew and Full stack Academy shared their success stories. Secretaries Mr. M.N.Baig Zahid, Mr. Syed Fakhr-ud-Din Ali Ahmed, State Nazima of Women's Department Ms.Asiya Tasneem were also present on the occasion. Mr. Abdul Mohi hosted the event and Mr.Masood Ahmed Sohaib thanked all the participants and delegates. Mr.Mohammad Kaleem uddin, Mr.Muniruddin, Mr. Mir Abbas Ali, Mr.Maqsood Hashmi, Mr.Mustafa, Mr.Yawar and other workers participated in the arrangements.