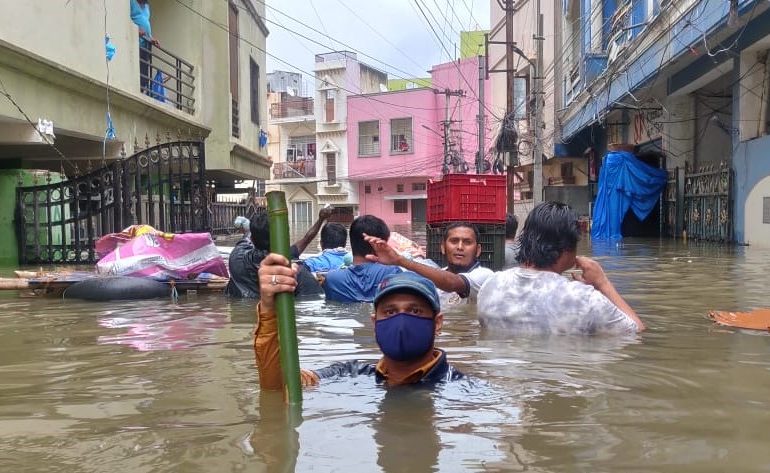 Hyderabad: A large part of the city has been affected due to heavy rains since last 3 days. Last night (13th October) 10 lives were lost due to wall collapse in Bandla Guda. Severe rains have left many areas in city inundated.
City President Mohammad Rashaduddin along with city secretaries Mr. Mohammad Muniruddin and Mr. Ahmed Junaid Sobhani inspected the areas while Mirza Azam Baig City Secretary visited the areas of the old city and also asked the government to provide relief to the victims.
Jamaat-e-Islami Hind and Students Islamic Organization (SIO) volunteers took up relief works on a war-footing. A coordinated program was launched irrespective of religion or caste for rescuing the stranded people, providing temporary accommodation, preparing and distributing of food packets and drinking water.
SIO Volunteers did an awesome work throughout the city. Few of the heavily affected areas in the city Nadeem Colony in Tolichowki, Golkonda, Al Jubail Colony Chandrayangutta, Shaheen Nagar, Royal Colony Balapur, Yaqutpura, Malakpet, Bahadurpura, Falaknumah, Muradnagar, relief work is being carried out in all of these areas.
Approximately total 15,000 ready to eat food packets were distributed (Food was cooked in multiple places and procured from Hotels, etc.)
People were shifted to safer places by boats in Tolichowki, Nadeem Colony and other severely affected areas. In few places emergency kits were also distributed.
People on a large scale have been affected and it is imperative to provide immediate relief to them. The Muslim community is requested to cooperate in the relief work. For more information on relief work please contact on this mobile number: 8712313740 or approach local JIH unit office.