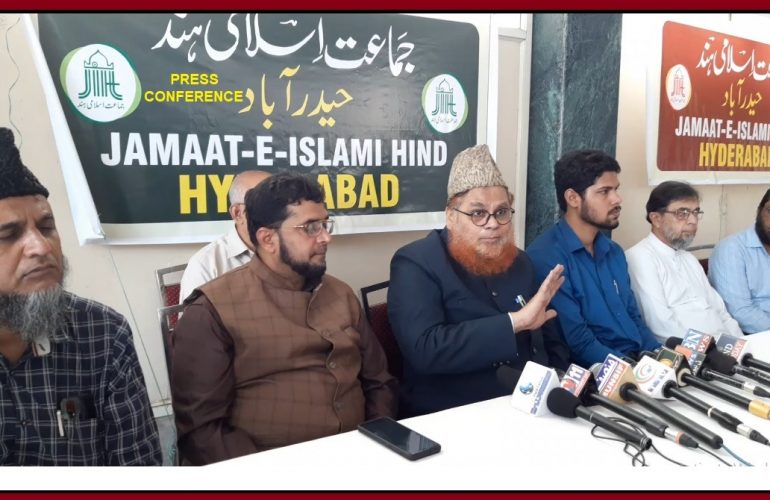 Press Release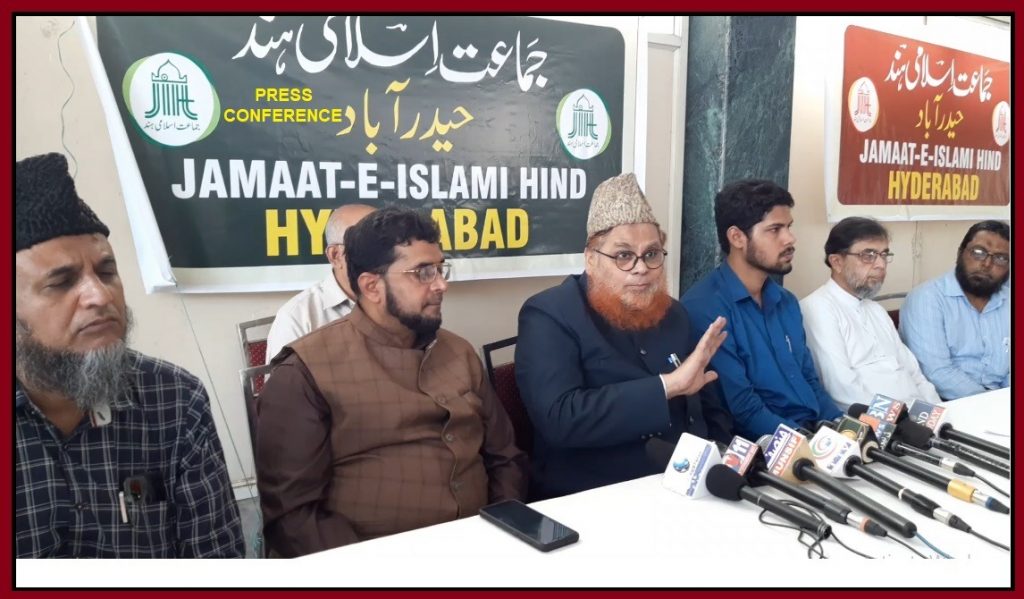 Jamaat-e-Islami India Hyderabad today organized a press conference at Decent Function Hall, Mehdipatnam, Hyderabad. Details of relief work in rain-affected areas by Jamaat-e-Islami Hind – Hyderabad were presented.
On the occasion, Maulana Hamid Mohammad Khan, Amir of Jamaat-e-Islami Hind, Telangana, said that after the devastation in Hyderabad rains the government needs to take serious note of these incidents and formulate a concrete strategy to protect the people from such accidents in future. He said that protection of life and property of poor people is the first responsibility of the government. Therefore, a permanent solution should be found to such serious problems. He further said that the assistance provided by the government to the victims is insufficient and the government should increase it. Also Rs 25 lakhs should be given to the families of the deceased.
Hafiz Mohammad Rashaduddin Sahib, Nazim of Jamaat-e-Islami Hind, Hyderabad, said that Jamaat-e-Islami Hind greater Hyderabad started relief work since 13th October 2020. When JIH got the information about disasters due to rain in different areas of the city we immediately decided to go ahead with relief work.
In the beginning JIH surveyed different areas like Hashimabad, Nadeem Colony, Al-Jubail Colony, Ghazi-e-millat Colony and started rescue and relief work. Later we started the work in different areas of the city such as Osman Nagar, Abdullah Yahya Nagar, Hafiz Baba Nagar, Gulshan-e-Iqbal colony, Nadeem colony, Balreddy Nagar, Nacharam, Rasool Pura, Saroor Nagar, Kala Dera, Nasheman Nagar, Bhawani Nagar, Talabkatta, Osmania university campus 6, Adikmet, Malkajgiri and various localities of Hyderabad city.
Around 400 workers of Jamaat-e-Islami hind and Students Islamic Organizations (SIO) of India are working in these areas. The first step was to rescue the people who were stuck in the water. We got few boats and we also made some temporary boats and rescued the people. Later we provided around 50 thousand food packages and many other necessary items which were required to the people who had lost everything.
Now we have started rehabilitation work. Our plan is to provide 3000 kits to different families of these areas. Each kit contains 4000 rupees worth of items. These consists of bed sheet, 2 blankets, mattress, utensils, mug, bucket, kitchen items, rice, oil etc. We have understood that in different areas people have different needs. Hence in some areas instead of providing kits it was decided to provide cheques of rupees 4000 to each family. This will be the 1st phase of rehabilitation work. In Phase 2 of rehabilitation we will try to provide help of 10 thousand to each family who suffered severe economic losses.