Want to learn Arabic language?
It will take hard work, dedication, and time, but it's certainly achievable.
1. Decide firmly that you want to learn Arabic.
2. Start with the basics. …
3. Learn to use the Arabic dictionary. …
4. Immerse yourself in study and practice. …
5. Speak the language & never stop learning.
6. And take professional mentoring and guidance.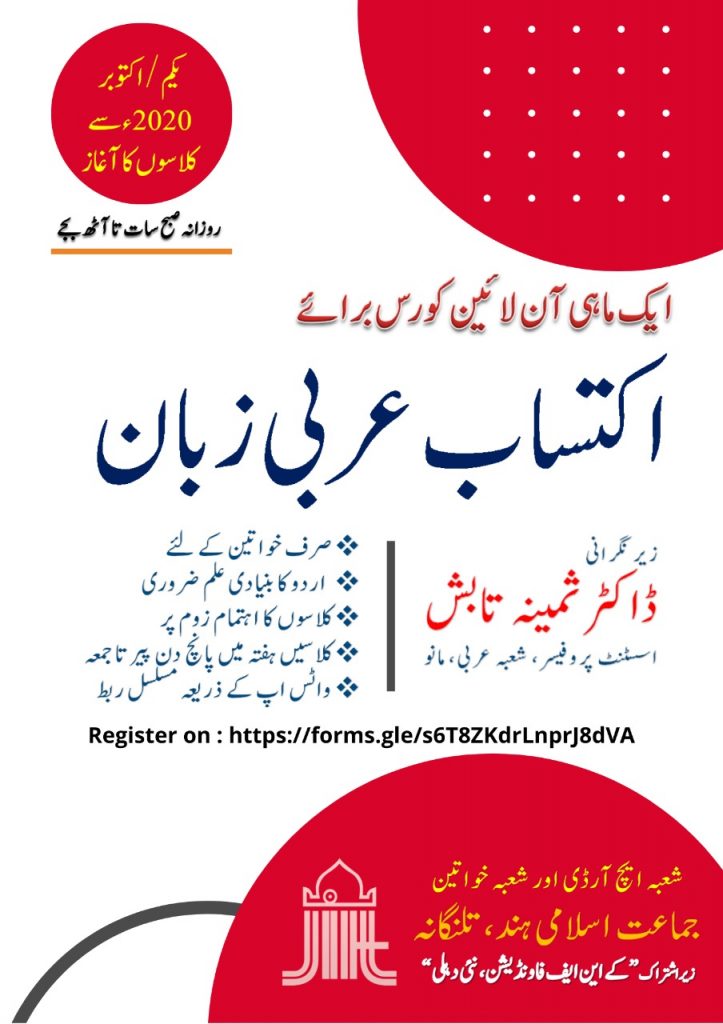 HRD & Women's Departments of JIH TS in collaboration with KNF Foundation, New Delhi announce the commencement of "One month Foundation course to Learn Arabic language". The course is exclusively designed for ladies under the expert supervision of Dr. Sameena Tabish, Assistant Professor, Department of Arabic, Maulana Azad National Urdu University, Hyderabad. The other details are as follows:
• Basic Urdu Knowledge essential
• Classes on Zoom from 1st Oct 2020
• Classes 5 Days a week
• Consultation through Whats App
• Timings 07.00 am – 08.00 am
• Certificates and Study material will be provided
• Admissions on first come first serve basis for limited seats.
Update:
Jazakallah for showing interest. By the grace of Allah Almighty we received an over whelming response for "one month online course to learn Arabic language". Within 12 hours of opening registrations we got 50 responses. So, you are requested to wait for next batch. inconviniece caused is regretted. Prof. Mohd. Khalid Mubashir uz Zafar, Secretary HRD JIH TS.
For registration Visit on : – Registrations are closed for now.