HRD & Islami Moashira JIH TS BRINGS YOU SPELL-3 OF 1 MONTH
Online Basic Tajweed ul Quran Classes
In collaboration with Wifaq ul Ulema, Telangana
"Are you facing difficulty to recite the Qur'an?"
"Is pronouncing the Quranic letters properly a real challenge for you?"
"Do you have a serious decision and real ambition to correct your Qur'an?"
Then you are at right place and time!!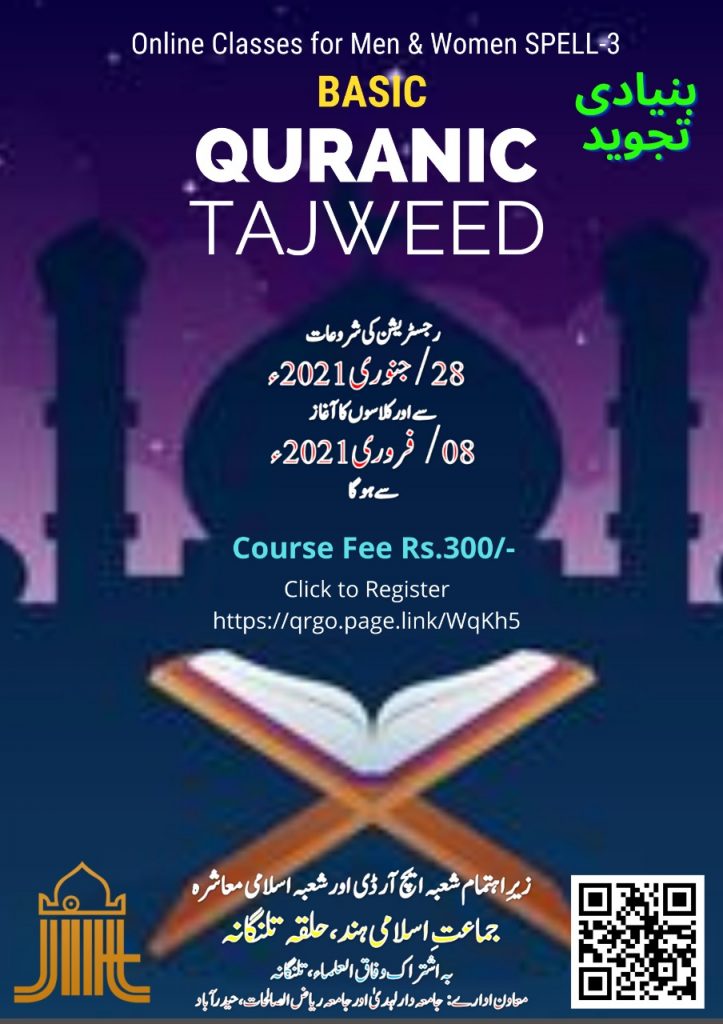 We have designed exclusive courses of Tajweed ul Quran for varied learners through online mode. A team of highly qualified, well experienced, and profound knowledge background is behind this course. This course will enable learners to read Qur'an fluently with proper pronunciation of letters and recite the Qur'an with system of Tajweed.
We have successfully organised Online Basic and Advance courses in Tajweed ul Quran in the recent past . Alhamdulillah two spells of Basic Tajweed and one spell of Advanced Tajweed are completed with more than 500 men and women get benefitted and learn Tajweed online at home. Now, the Spell-3 of basic Tajweed course is being announced here. This time all interested candidates can register course by paying Rs. 300/- for Basic Course through following registration link.
Please read thoroughly all details about the course which are given in the registration form.