Major questions:
Are you from a completely Non Telugu background?
Are you not able to identify Telugu Alphabets even?
Do you want to learn basics of Telugu Reading and Writing?
Then do not worry!!!
This course is prepared for you only.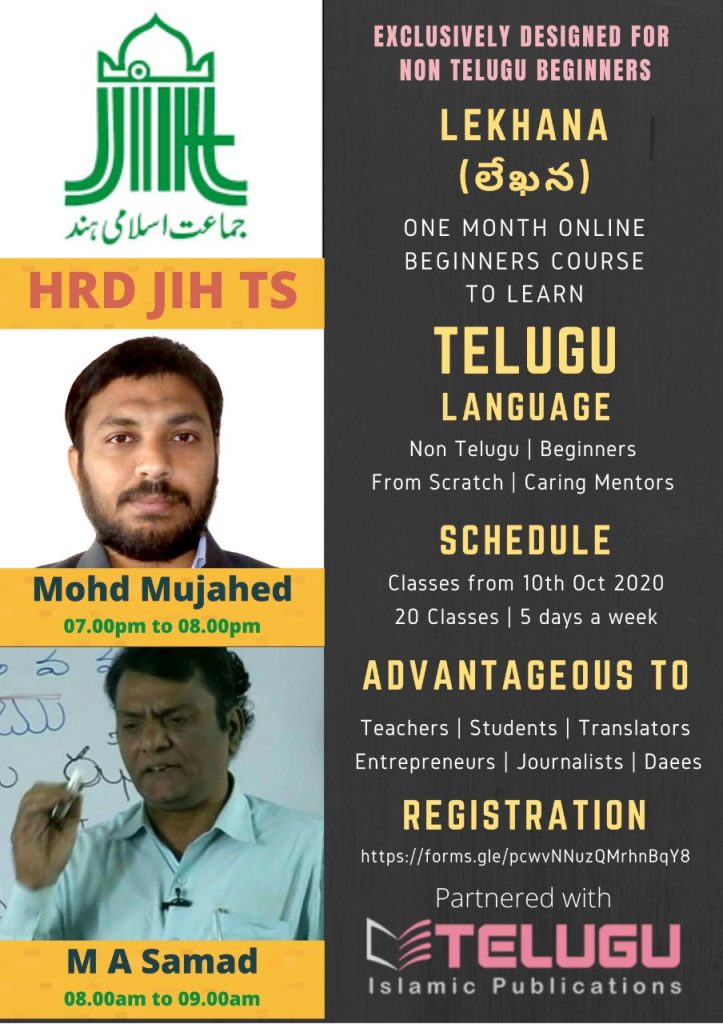 Introduction:
Telugu script with 56 letters and many conjuncts is a highly technical script.
Once you learn Telugu script you can read any word with 90% right pronunciation, and you can write any word.
Telugu reading and writing helps you to understand Telugu literature and Telugu society
Learning Telugu alphabets is relatively a little bit hard but achievable.
Decide firmly that you want to learn Telugu alphabets
Organisers:
HRD department of JIH TS in collaboration with Telugu Islamic Publications, Hyderabad announces the commencement of "One month Online Beginners course to Learn Basic Telugu Language" (LEKHANA లేఖన). The course is exclusively designed for non Telugu background learners, under the expert supervision of Mr. Abdul Wahed, Executive Editor, Geeturai Weekly and CEO, Telugu Islamic Publications and his team.
Other Details
The other details are as follows:
1. No basic Knowledge essential.
2. Including assessments and holidays the course length will be one months(Total 20 hours).
3. 5 classes per week from Monday to Friday.
4. Class Strength not more than 40 students
5. Course fee is Rs 500/- (Rupees Five Hundred only).
6. Classes will start from 5th Oct 2020 Insha Allah.
7. Classes will be conducted on Zoom from 5th Oct 2020 and Consultation through Whats App Group.
8. Admissions on first come first serve basis for limited seats. For registration click the link https://forms.gle/pcwvNNuzQMrhnBqY8
9. Study material will be provided.
10. Certificates will be given to those candidates only who will attend minimum 18 classes and qualify in all tests and assignments.
11. Timings
Batch 1 : Mohammed Mujahid sb. (07.00pm to 08.00pm)
Batch 2 : Mr. Abdus Samad sb. (08.00am to 09.00am)
Academic Planning :
1 . Alphabets from అ to ఱ : One week: 5 classes
Words : Simple words without gunintamulu and vattulu
(Students has to make their own dictionary with the words they learnt every day)
2 . Gunintalu & Vattulu : One Week : 5 Classes
Words: Two or three letter words with gunintamulu and Vattulu
3 . Words with four or more letters and simple sentences Read and write : 5 Classes
4 . Paragraph reading and writing : Practice 5 Classes
Resource Persons
M.A.SAMAD, MA
A prominent author, debater and Telugu teacher with rich experience of over 25 years in teaching Telugu as a language. He has to his credit many appreciations and best teacher awards from MANUU, SIASAT DAILY, AIITA, SIO, and JIH. He is an expert in mentoring non Telugu professionals through Spoken classes and conducting Telugu learning crash courses. He taught many lawyers, doctors and business men ,sales representatives, policemen, officers, and politicians including Sri Mehmood Ali, the Honble Home Minister Govt of Telangana.
Mr.Muhammad Mujahid
Presently he is working as a sub-editor at Geeturai Telugu Weekly. As a Telugu journalist he has a vast experience of about ten years. He has also contributed over a hundred articles in various popular newspapers on social, spiritual and political issues. Recently he has written an introductory book about Islam too.