Telugu is the language of two states in India, namely Andhra Pradesh and Telangana. People use this language in their day to day life. One should have felt the need of spoken Telugu skill whenever he encounters native users. Not only in these two states, neighbouring states and all over India and abroad Telugu is an important language. By learning Telugu one can easily move around with Telugu people, communicating with them freely, sharing ideas and thoughts and this will help for personal contacts and for professional improvement as well.
Responsibility for language learning is shared by learners, parents, teachers, and the community. Here, we are trying to provide environments where one shall continue to develop basic Telugu language knowledge, communication skills, and strategies to achieve personal, and social goals. Insha-Allah, we will provide Telugu resource persons serving in different timings to accommodate diversified learners. This programme is especially designed for adult learners whose mother tongue is not Telugu.
Want to learn Spoken Telugu
Telugu is one of the ancient languages. Telugu dialect varies from one place to other place. Telugu verbal forms are different. Telugu has a Subject Object Verb structure.
Though a little bit difficult for non Telugu learner, but achievable with a little bit effort.
HRD of JIH TS in collaboration Telugu Islamic Publications, Hyderabad announces the commencement of "One month online Spoken Telugu course". The course is exclusively designed for beginners, under the expert supervision of Mr. Abdul Wahed, Executive Editor, Geeturai Weekly and CEO, Telugu Islamic Publications.
The other details are as follows:
No basic Knowledge essential.
Including assessments and holidays the course length will be one months(Total 20 hours).
5 classes per week from Monday to Friday.
Class Strength not more than 40 students
Course fee is Rs 500/- (Rupees Five Hundred only).
Classes will start from 5th Oct 2020 Insha Allah.
Classes will be conducted on Zoom from 5th Oct 2020 and Consultation through WhatsApp Group.
Admissions on first come first serve basis for limited seats. Please for registration click the link https://forms.gle/xYWkv7qLNWx4WdGG9
Study material will be provided.
Certificates will be given to those candidates only who will attend minimum 18 classes and qualify in all tests and assignments.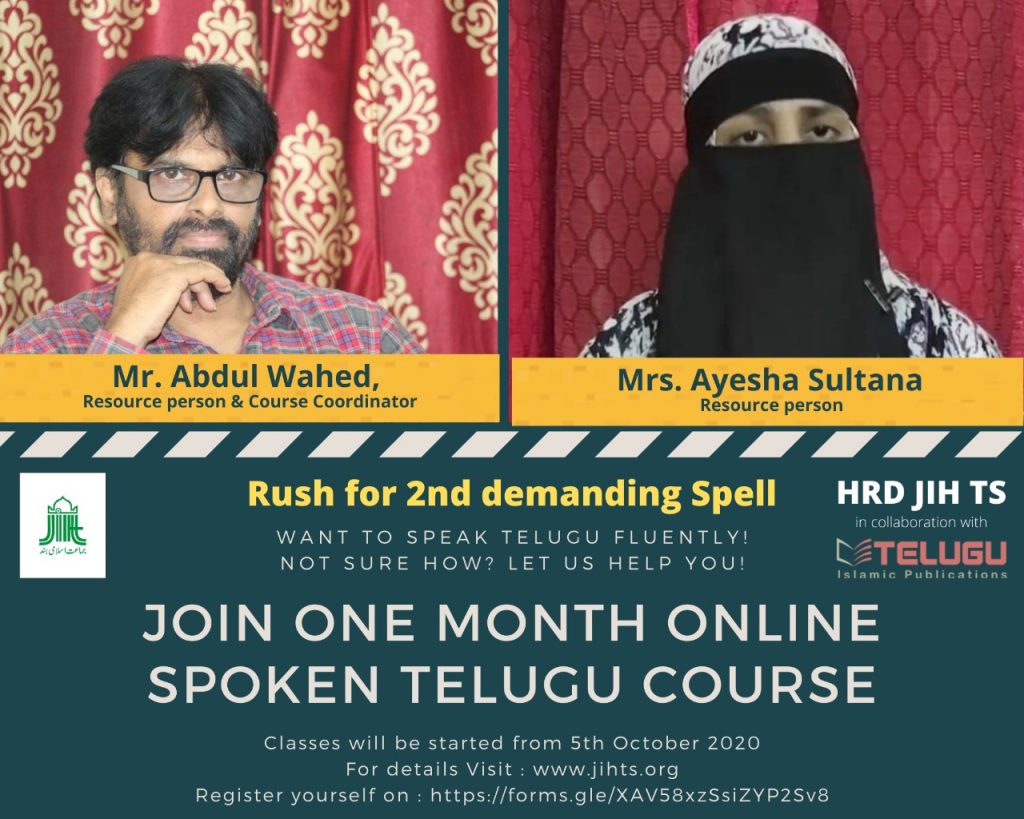 Resource Persons
Mr. Abdul Wahed, B.Sc
An experienced journalist, media writer, translator and author of many books in Telugu language. He is attached with many Telugu channels, journals and news papers including Tv9 and Sanskruthi, Hmtv, Studio N, Manatelangana, Navatelangana, Geeturai and many more. He is a very creative mentor and innovative mentor, he has a vast experience to guiding and mentoring non Telugu learners.
Mrs. Ayesha Sultana, MA
An experienced educator with excellent communication skills demonstrated during long time of her teaching practice. She is a prominent Telugu Orator and native Telugu Speaker. She has expertise in managing senior students, house wives, working women and maximising learning opportunities in diverse classroom settings.
Organised By Department of Human resource Development JIH TS in collaboration with Telugu Islamic Publications, Hyderabad